07-01-2009
PRE or POST?
Our music sometimes being before its time, this time we're definately behind - in wishing you all the best peace, love, happiness and success for 2009 - but only after thanking you for your support until now.
All the nice words and messages mean a lot to us as it's always good to stay close to those who fuel our engines: you - the fans and listeners!
Thank you very much!
And keep that great musical taste for the years to come, will you? ;-)
03-11-2008
IT`S DONE!
Unfortunately we're not speaking about our forthcoming album called ... whoo ... we nearly revealed too much! ;-)
No, the construction works for Patrick's new TidalWave studio which took some of us a few months are finally over!
Check out some pics at the official TidalWave Homepage
Nothing stands in our way now anymore to prevent us from writing, rehearsing and twisting our minds for our musical
works-to-come!
We'll keep you up-to-date!
30-04-2008
DEDUSTING OUR FORGOTTEN STAGE PROPERTIES
While dedusting LE GRAND GUIGNOL's stage properties, we stumbled upon a long forgotten treasure: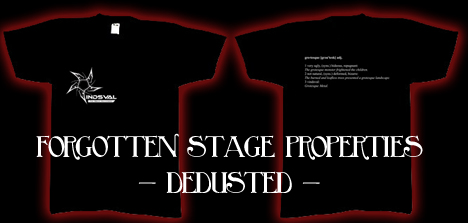 VINDSVAL "The Great Maddening" shirts!

Remember, before the name-change, LE GRAND GUIGNOL was called VINDSVAL. However the album-title stood the test of time.
Not many of those rarities are left, so click on the above image and grab yours before the curtain falls once and for all.

16-04-2008
FAINT SPARK
First ideas concerning a new album are about to rise in our twisted minds.
What we can disclose so far is that it will be a real and deep-going concept album.

16-04-2008
LE GRAND GUIGNOL STREET TEAM
We invite you to join the Maddening Media Street Team in order to help us promote our music.
Find out more about the Street Team HERE

10-01-2008
NEW YEAR, NEW INTERVIEW & REVIEWS
LE GRAND GUIGNOL would like to thank you for your precious support in 2007
and wishes you all the best peace, health, happiness and success for 2008 and beyond!
May your good musical taste be preserved! ;-)
Meanwhile many reviews and a new interview have been added in the respective sections.

16-10-2007
LE GRAND GUIGNOL @ iTunes
"The Great Maddening" is now also available at the popular iTunes-store.
Launch your software and feed your starving player with this:
09-10-2007
FULL-ALBUM-DOWNLOAD AVAILABLE
As of now, "The Great Maddening" is available as full-download together with previews of each song!

CHECK IT OUT

14-09-2007
LIVE INTERVIEWS
LE GRAND GUIGNOL will be giving live interviews at the following radio-stations:

14.09.2007 - 22:00 - Metal Area: Radio Querfunk Karlsruhe (104,8 MHz, or via internet-live-stream)
23.09.2007 - 14:00 - Den Däiwel Steht Virun Der Dier: Radio ARA Luxemburg (103,3 & 105,2 FM, or via internet-live-stream)

02-09-2007
NEW REVIEWS AND INTERVIEWS
New reviews and interviews are constantly added.
Read what the press tells us and what we tell the press! ;-)

29-08-2007
GUESTBOOK UP AGAIN
After a long time absent, the guestbook is back and up again!
It can be found in the "contact" section.
Let us know what you think of "The Great Maddening"

23-08-2007
--- ! THE GREAT MADDENING IS OUT AND AVAILABLE ! ---

Dear freaks and friends,
The waiting is finally over!
Our masterpiece "The Great Maddening" is out and available!
Be fast and grab your limited edition in the shop!

18-05-2007
"The Great Maddening" will be released on august 24th, 2007!

17-03-2007
27-02-2007
NEWS GALORE
--- ! LE GRAND GUIGNOL goes audiovisual ! ---

Last weekend, LE GRAND GUIGNOL did a video-shooting for the song "Madness And Her Thousand Young"!
Photographic evidence can be found in the MEDIA-section.
The clip is currently being anatomized in the post-production. Prepare yourself for some maddening footage in High-Definition!
The release-date will soon be announced here.

--- ! IT'S DONE ! ---

"The Great Maddening" is done!

The end of the tunnel has finally been reached and the light shines brighter than ever before!
The final polish has been added yesterday at the Galaxy Studios by mastering-engineer Darcy Proper.
The result is absolutely outstanding!
The album will be released in spring by Maddening Media, yet the exact release-date is still to be affirmed.


--- ! FOR YOUR EARS ! ---

2 full-length songs can be found on our MySpace-Site!

"Mens Insana In Corpore Insano"
rolls the coaster through your (sub)consciousness.
Mentally unstable people advisory: LGG does not bear the responsibility for possible side- and/or after-effects!
"The Healing Process"
For those ignoring our advisory information: Recovery might be aided as the healing process begins.
If required: repeat!
09-02-2007
The complete mixing is done!

The mastering of "The Great Maddening" will be done around mid/end february by
Grammy-Award-Winner Darcy Proper at Galaxy Studios/Belgium (Eric Clapton, R.E.M., AC/DC, Manowar, Rammstein...)

24-01-2007
The basic mixing for "The Great Maddening" is done! The complete mixing will be done in january.
Mastering is scheduled for mid february.
24-01-2007
New website launched
december 2006
Le Grand Guignol cooperates with the record-label Maddening Media